Salmon like at Orleans Island
From the one star french chef Patrick Asfaux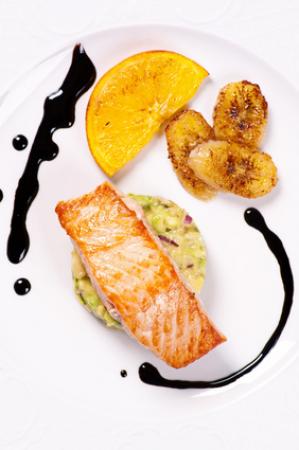 Prepare time :
Cooking time :
Total time :
This recipe of salmon with bacon and bananas comes from our special Canadian menu.

Salmon with bananas and bacon like at Orleans Island recipe for 6 people
6 Slices of salmon of 180g each

12 slices of streaky bacon

6 Bananas

50g Raisin soaked for 1/2H

3 dl Double cream

1 tbs grape seed oil

2 knobs Butter

salt and freshly ground pepper

1 tbs Maple syrup
Progression
1) Start your oven at 200'C (392'F)
2) Place your 6 slices of salmon on your working top lightly season them with salt and pepper on both sides. Wrap each salmon pieces with 2 slices of bacon. Secure the lot with a bit of roasting string.
3) In an oven dish place a knob of butter and put your salmon. Bake for 20 minutes.
4) Meanwhile, peal the bananas and slice them in pieces 3-4cm thick.
5) Heat up a knob of butter as well as a tablespoon of grape seed oil in a non-stick frying pan. Then, fry up the bananas. Season with salt and pepper. After a couple of minutes add the maple syrup and cook for another couple of minutes.
6) Take your salmon out of the oven. Set them aside on a tray. Then, place your oven dish onto the stove and add the cream and raisins. Allow to reduce down a bit and season well.
Arrangements
Coat each plates with some sauce them place a salmon roasts carved in three pieces (at an angle) at the centre of each plates. Finish by spooning some pan fried bananas around the fish.
The blend of flavours fish, bacon and bananas is very enjoyable!
credits photo : © HLPhoto