Roquefort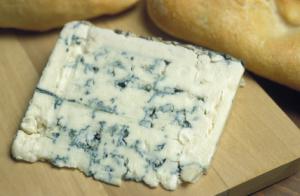 The Roquefort, this powerful and raced cheese, appeared at the end of the Middle Ages. Since the XVth century Charles VII will make village of Roquefort the only one with being able to refine this cheese in cellars dug with hillsides still used today by Refiners Masters. In 1666, a stop of the Parliament of Toulouse will go even further since it will authorize the continuations against any manufacturers of false Roquefort. Diderot, epicurean in front of the eternal will decree with the Roquefort the title of King of Cheeses. If the first ambassador of our soils throughout the world is without question the Champagne, the Roquefort represents certainly most known of cheeses of France.
The manufacturing process includes several phases, from the collection of milk, to the heating, while passing by the "empressurage", curdling or draining after setting out of mould and it ends invariably in a dry salting with deicing marine salt then by a refining in the cellars of the village where the particular atmosphere makes it possible the penicillium roqueforti (microscopic mushroom) to be propagated through cheese and to give it this color and this so particular savour. Nothing is better than a section of this delicious cheese at the end of a meal but to benefit from it fully, we advise you to prepare it one hour before just as for the best wines, in order to benefit fully from its marrowy and its incomparable taste.
credits photo : © vision images - Fotolia.com
Vous êtes producteur, vous pouvez facilement et gratuitement ajouter vos coordonnées ici et ainsi faire connaitre votre production à tous nos visiteurs.


---