Pacherenc du Vic-Bilh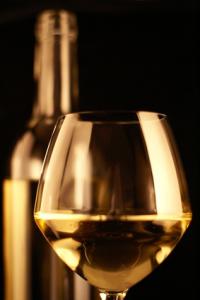 Pacherenc du Vic-Bilh is one of these productions of which our soils have the secrecy. This delicious white wine draws its name from béarnais (Pacherenc means "stakes in row") and from the language of Oc (Vic-Bilh is equivalent to" old country"). Less known than its neighbor Madiran, Pacherenc du Vic-Bilh is however a very pleasant wine. The surface of name merges besides with the one of its famous neighbor, in between three departments : Hautes-Pyrénées, Gers and Pyrénées Atlantiques.
Pacherenc du Vic-Bilh is composed of four type of vines in perfect adequacy with this rigorous soil: Arrufiac, Courbu, Large Manseng and Small Manseng. The last one is the typical type of vine for the famous marrowy of the Pyrenees. AOC since 1948, Pacherenc du Vic-Bilh, by the requirement of its vine growers, the nature of the ground and the levelling off of the output gives today wines of exceptions which enjoiyed the fans of white high-class wines. Serve the dry wines around 8° on shells or fish and reserve the marrowy for aperitif, or to accompany a fresh foie gras or a cheese by Ewe.
credits photo : © chris32m - Fotolia.com
Vous êtes producteur, vous pouvez facilement et gratuitement ajouter vos coordonnées ici et ainsi faire connaitre votre production à tous nos visiteurs.


---