Laguiole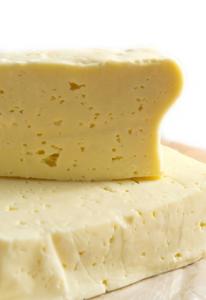 Laguiole which is pronounce "laïole" in Aubrac, its production area, is a cheese of which origins go back to many century. Pline evokes as of the Antiquity the cheese-making activity of the area and one evocations of Laguiole are find in texts which go up in the IVth century. Manufactured starting from cow's milk, Laguiole is a cheese with pressed and not cooked paste. Presented naked, each cheese is marked of a Bull and the word "LAGUIOLE" printed directly on the crust. It carries an identification plate out of aluminium.
Aubrac continues to manufacture its cheeses in the respect of the traditions and the methods of the "cantalès", these Masters cheese-making from the past. The curd is broken, pressed, then crushed again after a maturation from 12 to 24 hours. The paste is then salted in the mass, is broken and put in a mould furnished with a special fabric. After a new long and progressive pressing, the cheese is refined in cellar for a period extending from four to twelve months. Honest and rustic cheese with the image of its "country" of origin, Laguiole can be consumed at any hour, as an aperitif as well as after a good dinner. It will be perfect, sprinkled of a wine of the area like Marcillac or a wine of Entraygues.
credits photo : © Laure Fons - Fotolia.com
Vous êtes producteur, vous pouvez facilement et gratuitement ajouter vos coordonnées ici et ainsi faire connaitre votre production à tous nos visiteurs.


---