Rocamadour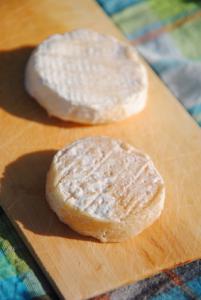 Rocamadour is a small cheese made with goat's milk, which comes from Causses of Quercy, most of the Lot and some communes of the close departments. This cheese with delicious taste was a time called "cabécou of Rocamadour", which means small goat's milk cheese in Occitan and its appearance as goes up far as the history from Causses of Quercy. Monograph of the XVth century describe Rocamadour as means of payment for the share-cropping and the taxes.
Rocamadour is manufactured starting from hot goat's milk. The curd obtained coagulates during twenty hours at least. It is drained without cutting during at least 12 hours. Mixed and salted, it is then moulded manually then refined in cellar, during at least six days, at a temperature of 10 degrees. Of striated and velvety aspect, its paste of cream-ivory colour has a typical savour of goat and a melting texture in mouth. Accompanied by a wine of Cahors, you will taste it at the end of the meal on a section of bread or in delicious salads.
credits photo : © anne Feneau - Fotolia.com
Vous êtes producteur, vous pouvez facilement et gratuitement ajouter vos coordonnées ici et ainsi faire connaitre votre production à tous nos visiteurs.


---