Rose des Riceys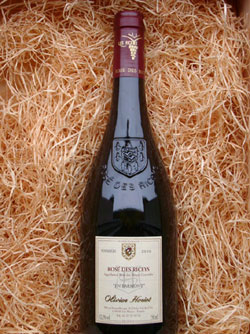 When we speak about Champagne wines, we generally think exclusively effervescent. However this single soil reserves some very good surprises to the fans of wine known as "quiet" and the Rose des Riceys is clearly one of them. This wine with which Louis XIV was literally in love results exclusively from the black pinot from the Riceys which includes 3 villages: Riceys-Haut, Riceys Haute-Rive et Riceys-Bas.
Riceys is the only commune of the area to gather on its territory three names: Champagne, Slopes Champagne, and Rose des Riceys. The generaly rather short maceration is stopped as of the famous "taste of Riceys appears" which gives to this rosy all its typicity. After a certain time out of tank, the wine is refined out of barrels of oak during one year, sometimes more, which gives one of the best rosy of France according the most eminent specialists. Refined out of barrels, the Rose des Riceys can be kept between 3 and 10 years. Made you pleasure by tasting it on Feet of Pig in Sainte-Ménéhould or on a Chaource Pie, a beautiful discovery...

credits photo : syndicat de défense de l'AOC Rosé des Riceys
Vous êtes producteur, vous pouvez facilement et gratuitement ajouter vos coordonnées ici et ainsi faire connaitre votre production à tous nos visiteurs.


---