My SIRHA and Bocuse d'Or 2011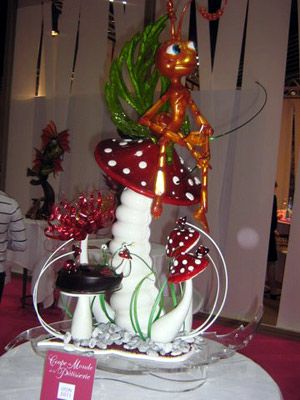 Our Chef Patrick was in Lyon at the end of last January for this great mass of the world gastronomy, among exhibitors to meet with the participants to prestigious comptetitions and great chefs.
On this day of January 21st, I arrived in Lyon by a TGV (very fast train) and I was very excited to be able to cover these events thanks to a journalist accreditation card obtained thanks to you as the Aftouch-Cuisine site has become very visible in the gastronomy world.
After a quiet night, my driver and friend Philippe Gardette (president of the OCI ' Ordre Culinaire International ' association and another friend, Alain Fournet, recent winner of the 2011 prize for Food Innovation (for his vegetable glazes) were waiting for me as Alain needed to prepare his stand.
We arrived into this very large fair hall were I was already picturing multiple meetings and new products discoveries and also painful feet at the end of each day !... This is exactly what happened : a discover and/or meeting every hundred yards, multiple stops at stands showing outstanding products from all around the world.
And every evening, after those exhausting days, we were meeting in 'bouchons' (small traditional restaurant of the old Lyon) overcrowded.
SIRHA (International Restaurant, Hotel and Food business Fair) figures are self explanatory : 2,000 exhibitors from all over the world, over 10,000 cooks (French and not French) and in addition to the mythic Bocuse d'Or, the following other prestigious competitions :
- Pastry (desserts) World Cup (19 pastry cooks in the final run)
- Louis Lesaffre Cup (French bakery championship qualifying for the 2012 bakery world cup)
- European Catering Cup (European final for the delicatessen specialists and caterers)
- Bernard Loiseau trophy
- Eval Butcher's National Trophy
- Eugène Weiss Trophy (chocolate confectionary's international competition)
- Gargantua Competition (for the best mass food restaurant)
- Délifrance Word Cup (sandwiches)
- French level of the Pizza & Pasta European 2011 championship (final will be in Paris on March 29
- Decorative sugar European Championship
and more ...
In the following days, I will communicate the names of all winners in each category.
In the meantime, please find a few pictures taken from January 22nd to 26th at the 2011 SIRHA in Lyon
So I will be back soon
Chef patrick

---