Mashed Potatoes
From the one star french chef Patrick Asfaux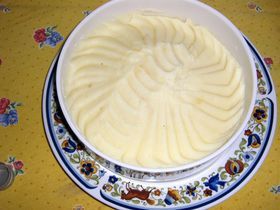 Prepare time :
Cooking time :
Total time :
This basic recipe can become an exceptional dish when prepared carefully.


Mashed potatoes recipe for 4-6 people :
1kg floury potatoes

20cl milk

90g butter

Salt and nutmeg
Progression
1) Cut your potatoes in their length and place them in a pot. Cover with some cold water and season with a good pinch of sea salt. Allow to cook, at a gentle simmer, for 22 minutes.
2) Put your milk in a separate pot and season it with salt and some nutmeg.
3) Quickly mash your potatoes and put them back into the pot. Place it on a medium heat and dry the mashed potatoes, stirring at all time with a wooden spoon, for about 15 seconds. Then, gradually add the warm milk and the butter cut into small dices.
This is a very simple recipe. But if you are very rigourous in making it you will be surprised by the result.
credits photo : patrick asfaux © A.F.Touch