Swiss chard in smoked garlic cream
From the one star french chef Patrick Asfaux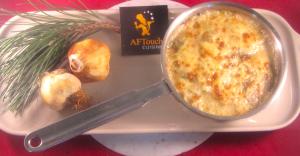 Prepare time :
Cooking time :
Total time :
Repos : 1 heures
Swiss chard in smoked garlic cream for 4 to 6 people:
1 bunch of beautiful Swiss chard (about 1kg) greens removed*the stems cut into squares of 2 to 3cms side by possibly removing the wires.

1 glass of milk in a tea ball thyme laurel and smoked garlic peel

2 cloves of smoked Arleux garlic

35cl liquid cream (30%)

1 artisanal smoked herring fillet, cut into very small cubes

50g freshly grated Emmental cheese coarse salt fine salt and ground pepper.

*You will use greens such as spinach, soups or others.
Progression
1) Boil 3 liters of water, the milk, the tea ball, then pour in your squares of chard, salt, cook for 20 minutes at a low boil.
2) In a saucepan, gently heat your liquid cream, pepper, do not salt, add your 2 cloves of smoked garlic, just crushed, just bring to a boil, then cover and turn off the heat.
3) Test your chard then drain them.
4) Mix the garlic cream then, add your Swiss chard, reheat for just 5 minutes, test the seasoning then add your small cubes of herring fillet at the last moment.
5) Dispachez the whole in 4 small molds or a hollow dish, sprinkle with the grated Emmental then gratinate in the middle of the oven put in grill position
credits photo : ©chef patrick-A.F.Touch