Recettes de Haute-Normandie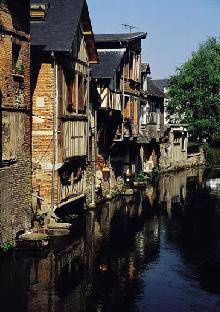 There is a presentation of recipes from haute-normandes. de Haute-Normandie

Recettes de Haute-Normandie
Starters (1)

Creamed Cucumber
Creamed cucumber with chicory for 4 people : 1 cucumber 2 chicory some salt For the sauce 10cl double cream 1 tablespoon hibiscus vinegar 6 min...



Meat (3)

Roasted Duck with Peas
A Roasted Duck with Peas recipe for 6 guests : 1 large duck (from Nantes if possible), weighing 1,6 to 1,8kg 80 gr of butter 1 bouquet of savory (...


Veal Chops
This old traditional French recipe has become out of fashion in French restaurant or at family dinner. I do not understant why, as it is a very simple...


Veal kebabs
To prepare you veal kebabs, first cut small cubes of veal meat taken from the shoulder. Let let marinade during 24 hours. Find below a few marinade r...



Desserts (2)

Apple Crumble
Apple crumble with toffee chips and coconut. This nice dessert is originally British. It bring back the memory of an old rhyme that I learned a long t...


Milk Toffee
I am sure that this delicious, ancient traditional recipe will please children and grown-ups alike. To know all about jam I invite you to read our ...