Canele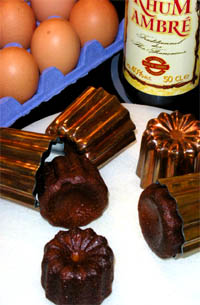 The town of Bordeaux, it is before all the city of the wine, the Quay of Chartrons, where all the large wine traders were staying, it is also the Garonne and its "tchanquee" huts which one sees until the accesses of the place of the Stock Exchange and which are used by the fishermen of the area... Bordeaux, it is all those things and many other still...
Bordeaux it is also the city of Canele, this divine cakes which was invented at last century by the sisters of the Sainte-Eulalie convent.
This Canele, it will be serve in terrace accompanying a coffee as well as a dessert at the restaurant in more delicious alternatives all the ones as the others, in gifts at the time of the arrival of friends or with the return of a stay in Bordeaux, in short, on many occasions... But what this delight has of so particular: it is indefinable... It's at the same time tender and crunching, scented of Old Rum and Vanilla Bourbon, slightly caramelized... A true moment of happiness. According to the taste you will choose your Canele more or less cooked, which does not remove anything in its marrowy heart but accentuates its cracking caramelized...

Canelés de Bordeaux recipe.
credits photo : © Couet Ivan - A.F.Touch-cuisine
Vous êtes producteur, vous pouvez facilement et gratuitement ajouter vos coordonnées ici et ainsi faire connaitre votre production à tous nos visiteurs.


---