Currant Jam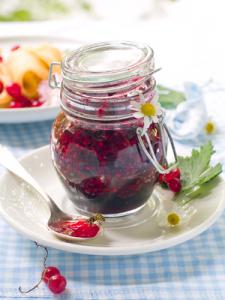 Bar-le-Duc is the town of origin of a rare and ignored Lorraine speciality, the currant Jam épépinée with the goose feather. This tradition is single in the world and this is why this astonishing jam is called the "caviar of Bar". The oldest mention which is attached to jams of Bar goes back to 1344. Considered since always as a luxury product, its fame extended rather quickly in the princely and aristocratic mediums, in particular at the Court of the kings. Famous men like Victor Hugo or Alfred Hitchcock were particularly fond of delicacies; it is besides Raymond Poincaré, former president of the French Republic and native of Bar-le-Duc, which introduced it with the table of the Elysium.
Since the origins, the work of the Ladies (called epepineuse in french) request a long training. Taking one by one red currant berries between the inch and the index, they slightly bores the skin of the fruit with a goose feather cut in bevel and extracts the pips without damaging from them pulp. No machine can replace this work and three hours of labour are necessary to obtain one kilogramme of currants without pips. Poured then delicately in a sugar syrup slightly bubbling, the currant bays preserve their savour and their color. Here is what makes the originality of this delicious jam, rarest, oldest and undoubtedly most expensive of the French jams.
credits photo : © Viktorija - Fotolia.com
Vous êtes producteur, vous pouvez facilement et gratuitement ajouter vos coordonnées ici et ainsi faire connaitre votre production à tous nos visiteurs.


---