Verdun dragee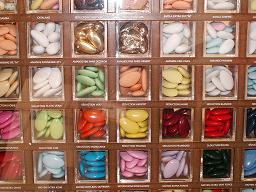 Lorraine is an area where people like the simple and sweetened pleasures. One of the local specialities became very quickly the symbol of the weddings in France. It is also one of those small gifts which is a reminder of those special occasions. The Verdun dragee was born from research of a local apothecary during the XIIIth century. It is first of all used as therapeutic remedy; it is indeed made mention in the registers of the town of Verdun, of a drug of comfort purifying the breath and facilitating digestion.
The Verdun dragee was called at this time Spices of Rooms. Very quickly success becomes popular and people consume Dragees through all the kingdom. Louis XIV will even order to distribute those Dragee to the children of the schools at the time of the ends of the year. Today, the Verdun dragee, made with the almonds Sicilians, silver plated or with the nougat is a must at the time of the weddings, the baptisms or the communions and contributes to the reputation of Verdun and Lorraine.
credits photo : © Couet Ivan - A.F.Touch-cuisine
Vous êtes producteur, vous pouvez facilement et gratuitement ajouter vos coordonnées ici et ainsi faire connaitre votre production à tous nos visiteurs.


---