Grenoble Nut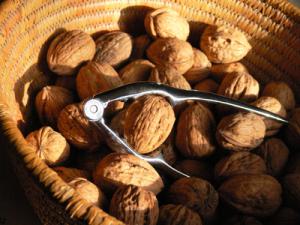 The Rhone-Alps area is particularly known for its cheeses and the richness of the culinary traditions of its capital, Lyon. It is also in the Rhone-Alps and especially in Isère that splendid walnut trees are cultivated since millenia, which made the fame of Grenoble Nut. This delicious fruit is the only nut in the world to be classified as an A.O.C. since 1938. As of XIth century, the culture of nut developed on each side of the Isère river between Montmélian and Romans, and more particularly on the Country of Vinay and the area South-Gresivaudan.
The Grenoble Nut which is in fact made with three varieties (Franquette, Mayette, Parisienne) is a true delight which, in addition to its undeniable gustatory qualities, contributes to reduce the cardiovascular risks of disease. Used through multiple derivatives such as the aromatic oil, jam, condiments, creams, the nougat or mustard, the Grenoble Nut will became a true delight with cheeses of the area, a honey spoon or with chocolate.
credits photo : © Indigo - Fotolia.com
GRIGNOTE
Quartier du Saladot 26750 MONTMIRAL
Producteur de noix depuis 3 générations, nos noyers de variété Franquette sont cultivés dans la zone d'Appellation d'Origine Contrôlée Noix de Grenoble (une des première A.O.C. de France, 1938), nous elaborons aussi de l'huile de noix et du nougat a partir de ces cerneaux.

Vous êtes producteur, vous pouvez facilement et gratuitement ajouter vos coordonnées ici et ainsi faire connaitre votre production à tous nos visiteurs.


---