Chocolate Toffee
From the one star french chef Patrick Asfaux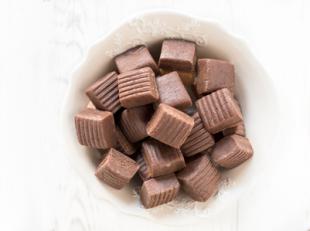 Prepare time :
Cooking time :
Total time :
Recipe for about 20 chocolate toffees
60g dark cooking chocolate, at least 50% cocoa.

60g unsalted butter

60g caster sugar

60g honey
Progression
1) In a thick bottom pot, melt down the sugar with the honey.
2) Add the chocolate and the butter cut in small pieces.
3) Cook for 5 minutes, stirring all the time. Then, pour this chocolate mixture onto an oiled marble or a large oiled ceramic dish.
4) Allow to cool down for few minutes. Then, cut this mass in squares just before it has fully cool down.
Store your chocolate toffees in a nice tin between sheets of greaseproof paper.
Easy, don't you think?
credits photo : above © Family Business