Brin d'Amour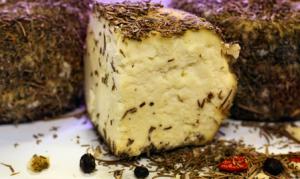 Corsica is a rich area of traditions and history, and the Brin d'Amour (literally "wisp
of love"), although relatively recent in its creation, was born from this Corsica attached to the lovingly prepared products. Of artisanal manufacture, this cheese with the ewe's milk "breathes" its Island as of the first mouthful. Indeed, the Bit of Love is coated with savory, rosemary and juniper, these herbs aromatic which one finds in the Corsican maquis.
Its soft paste with flowered crust of ivory color progressively hardens its refining which lasts on average one to two months. The Corsican grasses which cover it, confer to him a fine and slightly acidulous savour. The best period of the year to taste it, it is without any doubt the summer, period when the ewe's milk is scented the most. Test the Brin d'Amour accompanied by Madiran, a wine of Corsica or a "Côte de Provence Rosé", you will regale yourselves.
credits photo : © illustrez-vous - Fotolia.com
Vous êtes producteur, vous pouvez facilement et gratuitement ajouter vos coordonnées ici et ainsi faire connaitre votre production à tous nos visiteurs.


---