Chocolate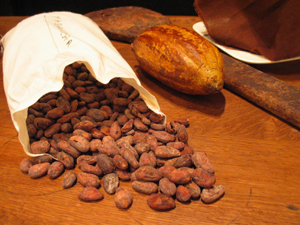 The Cocoa broad bean comes us from South America. The cacoayer produced a fruit indeed that the old Aztec crushed to consume it mixed with water. The Cocoa was introduced on the old continent by the Spanish conquerors in the neighbourhoods of XVIth century to become an appreciated food product throughout the whole world. This cacao was mixed gradually with cane sugar to remove its bitterness and the chocolate started to become a very popular drink then a genuine food.


Why choose the Ile de France to speak about chocolate? Indeed, all the areas of France have their specialities containing chocolate. We can add that there are as many local specialities as chocolate sellers in France. And if the Basque Country with the town of Bayonne was one of the first centres of the chocolate production, it's also well known that Paris and its area conceals true artists who make of this delight an unceasingly renewed pleasure.

credits photo : © Nicolas Paulin - FOTOLIA
ROY CHOCOLATIER
27, rue de Longchamp 75116 PARIS
ROY, Chocolatier à Paris depuis 1948 et sur Internet depuis 1996, sélectionne auprès de quelques Artisans français de talent, des Chocolats de caractère et des Confiseries traditionnelles.

Nous livrons à Paris et expédions dans le monde entier.

AMANDEOUS
1 bios rue de verdun 34000 MONTPELLIER
La spécialité de Montpellier, le chocolat CLAPAS, et d'autres spécialités régionales du Languedoc Roussillon, chocolats PUR CACAo de luxe, pâtes d'amandes,fruits confits .........
Vous êtes producteur, vous pouvez facilement et gratuitement ajouter vos coordonnées ici et ainsi faire connaitre votre production à tous nos visiteurs.


---