Russian Cigarettes
From the one star french chef Patrick Asfaux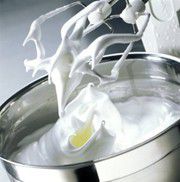 4.9

/

5

(

18

votes)
Prepare time :
Cooking time :
Total time :
Recipe for thirtieth Russian cigarettes
4 egg whites

200g of caster sugar

1 drop of vanilla extract

100g of stronghold flour

100g of melted butter
Progression
Pre-heat your oven at 220 degrees Centigrade (gas mark 7). Whisk the egg whites until a strong foam, then delicately bind the caster sugar and the vanilla extract with a wooden spoon, (bringing up the egg white from the bottom of the bowl to the top while slightly turning it), until all the sugar has been incorporated. Add in the flour and the melted butter (lukewarm) using the same technic.
Using a large spoon, make small heaps on a non-stick oven tray (be careful not to put them to cloth from each other to allow the mixture to spread a little bit). Flat them out using a fork, into the shape of a small disc.
Bake for 5 minutes making sure that the oven stays at least at 200 degrees Centigrade.
Lift them of the tray as they are still hot and roll them around a pencil to give them the shape of a cigarette.
These Russian cigarettes will always be welcome on your table for kids and adults alike. Be proud of them, you made them after all!
credits photo : © Stock Food