Moules (Mussels) mariniere
From the one star french chef Patrick Asfaux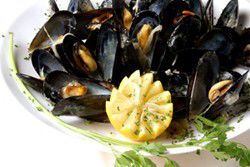 4.9

/

5

(

25

votes)
Prepare time :
Cooking time :
Total time :
Servings

4 litres "bouchot" Mussels

80 gms butter

4 med shallots; chopped fine

1/2 litre muscadet

1 heaped tb italian parsley; chopped coarsely

salt (a little)

Freshly ground black pepper

1 pinch thyme flowers

1 bayleaf
Progression
clean the mussels thoroughly before putting them into a large container,
filled with cold water. Stir them around, wait 5 minutes and then remove all
those that are floating - they are dead.
In your saucepan, melt the butter and gently sweat the shallots without allowing them to take colour. Add the muscadet, the thyme flowers (just a tiny amount) the bayleaf, and a touch of salt, be generous with the pepper on the other hand.3 good turns of the mill. Bring to the boil and simmer very gently 10 minutes.
Add your mussels, and stir them round until they are all open. Add your
parsley at the last minute and serve forthwith.
The recipe can serve as the basis from many others, with cream, curry
powder, with jurancon or sauternes wines, with lemon (excellent) and with
orange, etc etc
credits photo : patrick Asfaux© A.F.Touch