Salad of pasta with curcuma
From the one star french chef Patrick Asfaux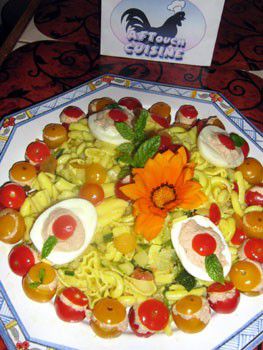 Prepare time :
Cooking time :
Total time :
with a hibiscus dressing and cherry tomatoes stuffed with a tuna rillettes.


salad of pasta for 6 people to make the day before:
400g fresh Italian pasta

12 yellow cherry tomatoes

12 red cherry tomatoes

3 hard boiled eggs

1 teaspoon curcuma

salt and freshly ground pepper

Tuna rillettes

200g tinned tuna, drained

the 3 cooked egg yolks from above

1 small fromage frais

1 tablespoon wholegrain Dijon mustard

1 finely chopped shallot

the juice of 1/2 lemon

salt

8 pink pepper corn

some olive oil

For the dressing

2 tablespoons olive oil

2 tablespoons hibiscus vinegar

salt and cayenne pepper as well as the pulp of the sherry tomatoes
Progression
1) Cook your pasta in 4 litres of water with the curcuma.
2) Meanwhile place all the ingredients for the tuna rillettes onto a chopping board and start chopping the lot. Make sure to mix well all the ingredients while you are chopping. Check the seasoning and reserve into the fridge.
3) Drain your pastas and cool them down with cold water. Strain them and stir in a little bit of olive oil. Clear into the fridge.
4) Cut the top of your cherry tomatoes and take the inside out of them. Season them and place them upside down onto a tray for 15 minutes.
5) To make the dressing mix the olive oil with the hibiscus vinegar. Add the pulp of your cherry tomatoes and season well with salt and pepper. Take a salad bowl and season your pastas with the dressing and place into the fridge.
6) Carefully, stuff your tomatoes with the tuna rillettes. Then, place the tomato tops on the top of them. Finally, stuff the egg whites shells.
Arrangements
Place the pasta salad at the centre of a nice tray. Then, place the stuffed sherry tomatoes all around with the stuffed eggs whites in between.
credits photo : © Asfaux Patrick - A.F.Touch