Cep Mushroom omelette
From the one star french chef Patrick Asfaux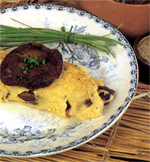 Prepare time :
Cooking time :
Total time :
Mushroom omelette, Serves 2
4 eggs

200 g plus 1 small cap sautéed cep mushrooms

5 cl cep mushroom coulis

1 small shallot or 1/2 clove garlic

15 g butter

1 sprig chervil

Salt & freshly ground pepper
Progression
Clean the mushrooms and cut into small cubes, keeping a small whole cap.
Panfry the mushrooms in a small amount of oil with salt, pepper, and a small amount of finely chopped shallot or garlic. Set aside.

Separate the eggs, season with salt and pepper, and beat for 10 seconds with a fork. Melt the butter in a non-stick pan, add the egg mixture, and stir with a wooden spoon. When the omelette is nearly done, add the mushrooms on the top of it and fold over.

Serve on a warm plate with the small mushroom cap set on top of the omelette. Garnish with the sprig of chervil and drizzle a small ribbon of cep coulis all around.