Crottin de Chavignol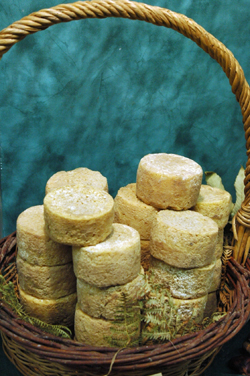 The breeding of the goats is a specificity in Country of Sancerre since XVIth century. Quite naturally, for this time one has manufactured there delicious a small goat's milk cheese called Crottin de Chavignol. The term of Crottin would come from the term "crot", which indicated a small oil lamp out of terra cotta used by the vine growers of the area for the lighting of their cellars. The manufacture of the Crottin de Chavignol, of the name of a small village near Sancerre, remained the same one as at its origins.
Prepared just after the draft, curdled milk, once drained, is placed in small round moulds which give to the Crottin de Chavignol its characteristic form. Once unmoulded and salted, it is put to dry and is turned over very regularly during this operation. The AOC implies a minimum of 10 days drying. According to your tastes, eat your Crottin de Chavignol more or less refined (some like it slightly bluish) and accompany by a wine of the area such Sancerre or Quincy.
credits photo : © Paul Charbit - FOTOLIA.jpg
Vous êtes producteur, vous pouvez facilement et gratuitement ajouter vos coordonnées ici et ainsi faire connaitre votre production à tous nos visiteurs.


---