Chocolate Yule Log
From the one star french chef Patrick Asfaux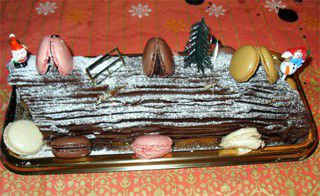 Prepare time :
Cooking time :
Total time :
A basic French recipe that will please children and grown ups alike.


Chocolate Yule Log for 6-8 people
For the sponge cake :

5 eggs, separated

150g caster sugar

70g strong flour

70g potato flour

3g salt

some butter

For the chocolate filling :

25cl milk

3 egg yolks

15g flour and 15g corn flour

50g caster sugar

30g bitter cocoa powder

For the chocolate ganache

110g dark cooking chocolate broken into small pieces.

110g double cream

35g butter, cut in small parcels

Some icing sugar and few Christmas decorations.
Progression
1) Start your oven at 220C (448F).
2) Whisk energicaly the egg yolks with the sugar until the mixture becomes slightly pale and fluffy. Then fold in the flour, salt and corn flour.
3) Whisk the egg whites into a stiff, firm foam and carefully fold them to the batter with a spatula.
4) Spread the batter onto a greased, flat oven tray, lined with a sheet of parchement. Bake for 6 to 8 minutes.
5) When, done put your sponge cake to cool down on a clean kitchen top, covered with a clean kitchen cloth.
Meanwhile make the chocolate filling.
6) Bring the milk to the boil.
7) Work the egg yolks with the sugar until the mixture becomes pale and fluffy. Then, add the cocoa powder, flour and corn flour. Mix well.
8) Pour a 1/3 of your boiling milk onto the egg-flour mixture and mix well with a whisk. Pour this mix into the pot with the rest of the milk and allow to cook for 3-4 minutes. Set aside onto a shallow tray. Dust with some icing sugar and allow to cool down.
Now that your sponge and filling are cold, make the roll
9) Flip the sponge cake onto your clean kitchen top. Peel off the parchement.
10) Evenly spread the chocolate filling onto the sponge. Carefully, roll the lot.
11) Place your roll onto a tray, making sure that the even part of the roll is facing up. Put in the fridge.
Now, lets make the chocolate coating - the ganache.
12) Put your chocolate into a bowl. Bring the cream to the boil and fold it to the chocolate with a whisk. Then, add the butter (cold) little by little.
Making the yule log.
13) Take your roll out of the fridge, trim both ends at an angle. Transfer it onto your serving tray.
14) Spread the chocolate ganache, evenly, all over the log with a palet knive. Pass a fork through the coating to imitate the bark of a tree.
15) Put your log in the fridge for 15 minutes. Then dust it with some icing sugar and place your Christmas novelties onto the log.
Keep refrigerated until needed.
It is true that this recipe seems long on paper. Infact, it is just very detailed. You can always make you yule log the day before and have it ready to go in the refrigerator.
credits photo : © Marie Josee BARUS - A.F.Touch