Smoked Duck and Beans Cake
From the one star french chef Patrick Asfaux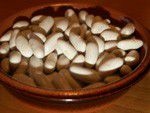 Prepare time :
Cooking time :
Total time :
Smoked duck and beans cake recipe for 4 to 6 people :
500g kidney beans, soaked for 12h

some thyme

1 bay leaf

1 carrot, peeled

1 onion, peeled and pricked with two cloves

2 egg yolks

100g smocked duck in small dices

50g olives, pitted and diced up

50g creme fraiche

50g butter, chilled

20g bread crumbs

Salt, pepper and nutmeg
Progression
1) Cook your beans in about 3 litres of water with the thyme, carrot, onion and bay leaf. After 45 minutes of cooking add some salt and prolong the cooking until the beans are easy to mash.
2) Start your oven at 180 degrees Celsius (356F).
3) Strain your beans and finely, mash them. Put this pure on a low heat to dry it out a little bit. Then, cool it down.
4) Add the butter in parcels, the cream and the egg yolks. Mix well. Season slightly and add the smoked duck and olives.
5) Line a baking tin with the bread crumbs and pour the bean mixture into it. Bake for 40 minutes.
When the cake is cooked allow it to set for 1 minutes before removing it from the tin. Serve warm with some tapenade or a spiced tomato sauce.
This recipe can be made in advance and frozen.
credits photo : © Couet Ivan - A.F.Touch