Chocolate marbled cake
From the one star french chef Patrick Asfaux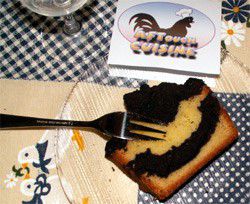 Prepare time :
Cooking time :
Total time :
Chocolate marbled cake serve 6 :
4 eggs

150g caster sugar

150g soft butter

150g plain chocolate (60%)

230g flour

15g baking powder
Progression
Start your oven at 150°C
Whip the butter, sugar and eggs. Add in the flour and backing powder with a spatula.
In the microwave (15 seconds, twice) or in a bain-marie, melt the chocolate. (The quicker, the better).
Put the paste in 4 bowls and mix the chocolate in 2 of them.
In a cake tin, put a layer of plain batter, then a layer of chocolate one, then batter and to finish a layer of chocolate batter.
Cook for about an hour at 150°C and check it's well-cooked in the middle (with a knife or a needle).
credits photo : Couet Ivan © A.F.Touch-cuisine